Saint-Nazaire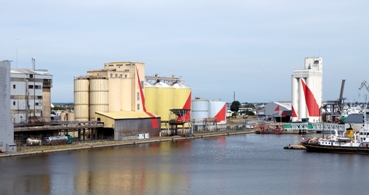 Cargill has had a presence in Saint-Nazaire since 1964 and we employ 75 people.
The Saint Nazaire plant processes sunflowers produced in western France and the protein-rich feed cakes are used in animal feed. The oil is refined and then bottled at the Château-Gontier site. Cargill's plant at Saint-Nazaire produces around 40% of sunflower food-grade oil consumed in France and we are the leading French supplier of plant proteins for animal feed.
The transport flows generated by our presence in both Saint-Nazaire and Montoir have made us the leading agrifoods client of the major seaport of Nantes – Saint-Nazaire.
In Saint-Nazaire, Cargill produces:
Sunflower oil
Feed cakes for animal feed
Site history:
In 1964, Cargill chose Saint-Nazaire as the place to set up our initial trading activities. In 1970, we opened our first processing site dedicated to soya beans and, 20 years later began processing sunflower seeds.