Le Grand-Quevilly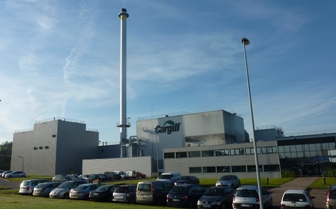 Cargill has had a presence in Grand-Quevilly, close to Rouen, since 2003 and we employ around 135 people.
We are one of the world leaders in the cocoa and chocolate industries, with 15% of the world's cocoa crop being ground every year on our sites in the producing countries in Europe and the United States. Sales of industrial chocolate have allowed us to grow in the European market.
In France, the Grand-Quevilly facility handles the complete industrial process, from the processing of cocoa beans to the production of industrial chocolate, including paste, butter and cocoa powder, thereby ensuring full traceability from the raw materials to the finished product.
The manufactured products are used in many sectors: confectionary, cakes, biscuits, cereals, breakfasts, ice creams and other dairy products. In total, Grand-Quevilly processes 40,000 tonnes of cocoa beans and produces 28,000 tonnes of chocolate a year, i.e. in this segment alone, the equivalent of 280 million 100 gram bars.
In an attempt to provide our clients with the finest aromas, Cargill travels the world to find the best cocoa beans: Côte d'Ivoire, Ghana, Cameroon, Venezuela, Ecuador and Madagascar, in addition to biological cocoa.
In Le Grand-Quevilly, Cargill produces:
Chocolate
Cocoa powder
Cocoa butter and paste
Site history:
Grand-Quevilly was acquired by Cargill in 2003, when we acquired the OCG Cacao company's chocolate activities.