Haubourdin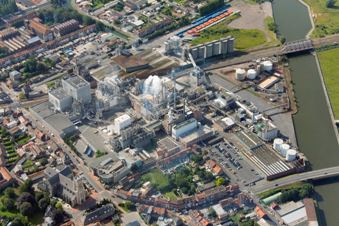 Cargill has had a presence in Haubourdin since 2002 and we employ over 350 people.
Over the years, Cargill has become one of the world leaders in the production of starch and its derivatives, mainly obtained from corn and wheat. The Haubourdin plant processes over 1,350 tonnes of corn per day, i.e. equivalent to a full train.
Starch and its derivatives are used in three main sectors: foodstuffs, industry and pharmacy. They can be found in baby milk, sauces, ready meals, to which they add texture (maltodextrines), sweets, which they sweeten (glucose syrup) or even chewing-gum (polyol), to which they add the well-known freshness effect. Starch is also used to give paper its stiffness or as glue in cardboard. The other constituents of corn are used in animal feeds.
Cargill Haubourdin also markets biopolyols from soya oil. These have replaced polyols made from petrochemicals contained in polyurethane foams, mainly used in furnishings (mattresses) and the automotive industry (seats, dashboard, steering wheel).
In Haubourdin, Cargill produces:
Starch and derivative products
Industrial starch
Site history:
The Haubourdin site has been in existence since 1856. In 2002, it became part of Cargill with the acquisition of the starch producer Cerestar, one of Cargill's largest acquisitions.