Baupte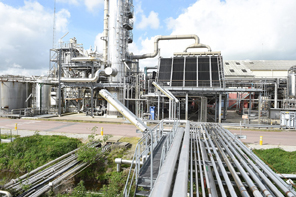 Cargill has had a presence in Baupte since 2006 and the site currently employs around 290 people.
The Baupte site produces texturizing agents, such as gelling agents, thickeners and stabilisers, which are essentially used by the food industry, as well as for cosmetic and pharmaceutical applications (face creams, medicinal capsules, dental imprints, shampoo). These complex solutions provide optimum results in terms of texture, stabilisation, taste and mouthfeel.
As part of the business that produces these texturizing agents, the Baupte site plays a key part in innovation, being home to the world research centre for hydrocolloids. Together with their customers Cargill's experts work in pilot plants, where they develop new recipes and products under conditions that are identical to those in industry.
The Baupte site also produces functional systems, i.e. the complex solutions that mean that clients' increasingly complex demands can be satisfied. They make use of a wide variety of skills (biology, rheology, regulatory affairs and quality, market observatory and consumption habits), know-how and Cargill's creativity.
E 400: designates texturing agents. Letter "E" indicates the market authorisation in the EU, with the three figures indicating the category of texturizing agents, each one having its own number (e.g. E 407 for carrageenan and E 440 for pectins, etc.).
In Baupte, Cargill produces:
Site history:
The Baupte site began activities in 1941 by producing peat briquettes. A lack of coal during the Second World War meant that peat was used for heating.
The site was acquired by Cargill in 2006, when we bought the agrifoods activities of the Degussa Group.